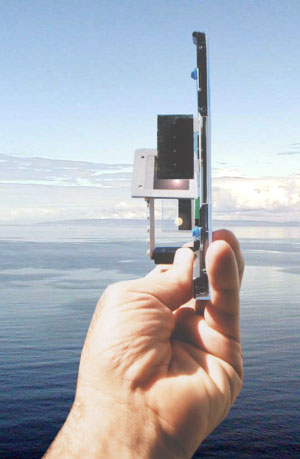 A sextant is an instrument generally used to measure the altitude of a celestial object above the horizon. Making this measurement is known as sighting the object, shooting the object, or taking a sight. The angle, and the time when it was measured, can be used to calculate a position line  on a nautical or aeronautical chart. 
Friend, brother Randy Hein in a recent talk at The Place opened with the navigational instrument the Sextant, and the heroic journey of Ernest Shackleton, and the crew of the " Endurance " to the Antarctic.
Disaster strikes, on 27 October, with the position at 69°05'S, 51°30'W, Shackleton gave the abandon-ship order and the men, provisions and equipment were transferred to the ice. On 21 November 1915, the wreck finally slipped beneath the ice. For almost two months, Shackleton and his men camped on an ice floe hoping that it would drift towards Paulet Island approximately 250 miles away. On 23 December Shackleton decided to start sledging towards the island, but because of the constantly changing sea ice the party only managed to march a few miles before Shackleton decided to set up another more permanent camp (Patience Camp) on another floe, and trust to the drift of the ice to take them in the right direction. After a another month or more on the sea ice floe the weather beaten crew set out in three small lifeboats. Shackleton had frequently chosen to have the most rebellious crew members close to him,( wisdom for all leaders ) in order to quell discontent amongst the party. The difficult task of navigating the crossing was left to the Sextant. Ensuring they were on the correct course was of utmost importance as missing their target would certainly have doomed the team.
Is it a stretch to weave the journey of the church, your faith community into such a heroic adventure?
The church has crashed into an ice flow of culture, economics, empires, religions, philosophies, secular humanism, individualism, etc...mainly because of ignorance...and blind navigation. The ship has crashed, and is taking on water and sinking.
Good faith communities always travel with a Sextant in hand. It is always sighting, shooting...taking sight of the object above the horizon...the goal of it's journey, Jesus and His Kingdom.
Randy uses the Sextant, along with " 4 Core Values ", like the points of a compass to navigate the faith community on a heroic adaventure of faith amidst the stormy seas that surround the church.
I encourage you to listen to podcast on The Place's site ... ... ... ( Condensed Core Values ) HERE.