We don't want to just read about what God wants. We don't want someone else telling us what God wants either.... We want our eyes to be God's eyes so that we can see the world the way God sees it. We want our hands to do God's work. We want our prayers to be God's prayers. We want what God wants. If you become a servant of God, then your action is God's action. By repairing things here, we repair them above. ( Rabbi Lawrence Kushner )
About 5 years ago, I slowly started moving from the front of the church to the back. I wasn't long until the only thing left was the door...and I was gone. I really get what Rabbi Kushner is saying. We need to see the world the way God sees it. From hanging out in Cafe's and taking with folks, I sense a spiritual craving, I hear about compassion and social activism. There is a generation in the midst of our neighborhoods that would Identify with what Lawrence Kushner is saying. The God-man, Jesus pitched his tent into the midst of humanity, he moved into the neighborhood. He was passionate about humanity, and all creation, moving in to show us what the abundant life of humanity could look like...now. " Father, may your Kingdom come, on Earth as in Heaven ", was about the redemptive imagination of restoring earth in the mirror image of the Kingdom of God. For the most part the church has turned the wild scandalous redemptive imagination of the Kingdom into an exit strategy. We are quite willing to throw away the reality of the Kingdom, and settle to gamble our future on some bad theology.
I'm 58 years old, middle-aged, slightly over the hill, and sliding down the other side desperately trying to hold on. In the 25+ years that I called my self a " christian ", I had heard a lot of sermons. I have seen Scripture twisted and contorted beyond recognition to fit every aspect of life. If I had to sum it all up, it would be " individualized spirituality " for the most part, maybe a with a dash of " history ", and highlighted around the big Jesus events...Birth, Transfiguration, Death and Resurrection, Ascension, and Pentecost. It's like being stuck on a merry-go-round, in which the only way you can get off is to... jump.
I confess, I got to the point before I jumped that I would take my i-pod and as soon as the sermon started I played my podcasts...or I would bring something stimulating to read. I got looks and stares, to which I would pleasantly smile and wave. I would hope they would understand that it beat the alternative appearance of me... slouched, head drooping, drooling and snoring.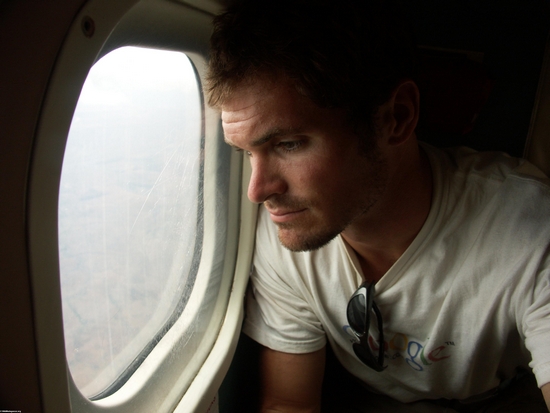 It's as if Sunday morning we tried our best to ascend to " some where ", to reach an altitude to which we were safely away from the world. We fired up the engines ( worship team ), hit the throttle and began to climb.  Some mornings we would encounter a little turbulence, but we'd strap ourselves in until it passed. Once we achieved a cruising altitude, the captain ( preacher ) would come over the PA system with inboard flight announcement ( sermon ). Some stayed awake during the announcement, but for others, this was when the blankets and pillows would come out...or i-pods and books. After a short domestic flight it was time to land, exit the terminal and do it all over again next week. In most cases, I think most passengers were led to believe these were all really training flights, in which the final one wouldn't be domestic...it would be extra-galactic flight to infinity and beyond.
My feeling of hypocrisy got the best of me...I had to do something. I quietly excused myself and left, telling people God was up to something and I was going to find out. Some understood, but not many. Many told me God would never call a person out of the church, out of community. Well...I'm not so sure.
I don't put myself up there with the Old Testament Prophets, but God called them out of their communities so they could speak back into it. God, called Jesus out of his family's religious community, and his family. He called the disciples out of their families, their community. So, I imagine that God does pull people out. Again, I reflect on Rabbi Kushner's words...
We don't want someone else telling us what God wants either.... We want our eyes to be God's eyes so that we can see the world the way God sees it. We want our hands to do God's work. We want our prayers to be God's prayers. We want what God wants. If you become a servant of God, then your action is God's action. By repairing things here, we repair them above.
For me this was my disconnect with sermons. Back to my flight metaphor, of the aircraft ( church ) flying to an altitude to separate itself from the world. Much of what I was hearing as the " on board " announcement was totally irrelevant to what I was seeing out the cabin window as I looked at the earth. Much of the talk was only relevant to the passengers in the cabin, or about the air craft itself.  I could not understand it...and I still don't. We exit the aircarft every Sunday and walk into the world...we see, we hear...and we are unmoved. We walk around our neighborhoods, our inner cities, we watch the news, we hear the news, we read the news...and we are unmoved.
Jesus walked around his neighborhood, our neighborhood...and was moved...moved to speak, moved to act.
Today, the church has no prophetic voice. If the church believes in the Kingdom of God...it must have a prophetic voice. If it continues to believe in an exit strategy...it can continue to wear a muzzle at sit in silence, irrelevant with little impact on the world. It can learn to speak prophetically as Jesus did, by immersing itself into the wisdom of what Rabbi Kushner is getting at.
The church needs to be in the brokenness of humanity...in the homelessness and poverty of the inner city, it needs to see the corruption and oppression of political and economic injustice, it needs to see the devastation on the environment, it needs to see prostitution, abuse against women, it needs to see the addiction of drug abuse, it needs to see racism ... ... ...
We can only gain the credibility to speak prophetically by living in these places. By living in them, we will see, and hear what God sees. The churches identity will be with them, in their pain, suffering, oppression, injustice. Only then can it have a true prophetic voice. Only then can it speak like Jesus.
For now, we speak much like the pharisees, thinking we can fix the world through morality. A moral world is a far cry from the Kingdom of God. 
God didn't go to all the trouble of sending his Son merely to point an accusing finger, telling the world how bad it was. He came to help, to put the world right again.
This paraphrase from Colossians has always stirred the redemptive imagination in my mind, and has ignited the passion in my heart to see as God sees...
He the God-man, the Son, Jesus was supreme in the beginning and—leading the resurrection parade—he is supreme in the end. From beginning to end he's there, towering far above everything, everyone. So spacious is he, so roomy, that everything of God finds its proper place in him without crowding. Not only that, but all the broken and dislocated pieces of the universe—people and things, animals and atoms—get properly fixed and fit together in vibrant harmonies, all because of his death, his murder, torture, and suffering at the hands injustice. That God, shouted " No! " that the empires and principalities would not have the final say. He said " Yes!" to Jesus and the peaceable Kingdom, and resurrected creation anew.
Can the church embrace that profound mystery, that everything finds it place in Jesus. Can we embrace " all " of creation, and see the broken and dislocated pieces of the universe. Can we speak prophetically against the principalities and empires that perpetuate it's oppression, domination and injustice. Can we then act to fix it...bring it altogether in a vibrant harmony.
A church with this kind of wild scandalous redemptive imagination can not help but attract and engage the heart and soul of all humanity to see a future worth living.